There has been a renewed focus on the home and how it functions in recent years.
As we make our way out of the pandemic, there is not a straight shift in going back to the way things were. With people spending more time at home, there was a greater appreciation of that space. This gave birth to the idea of a multi-functional space that is in parts a place for living, an entertaining area, a workspace, and a sanctuary.
One of the many questions that needed to be answered was how to make more of that space.
A new style of home
These days, we do much more in our own homes. They are no longer the traditional place we come home to for rest and relaxation. The home of today can be everything from the place where we eat, work, socialise, exercise, and play. Certain lifestyle changes are set to remain beyond the pandemic, including working from home and home exercising.
We are seeing a growing number of home builds which are incorporate office spaces, flexible living spaces, and creative partitions. This is all about maximising every centimeter of floor space. Whether it's adding a completely separate room or dividing living spaces, there is one efficient and effective way to achieve the best results. The answer is in taking advantage of oversized floor to ceiling sliding doors.
Suddenly, any home can be adapted to the needs of the changing lifestyle. Gone are the days of being stuck with a single-purpose room and simply making the best of what space was available.
Where sliding doors open up possibilities
Floor to ceiling doors has added advantages that can often be overlooked because they are such a stylish, unsung hero in the home.
With the distinctive design elements of cavity sliding doors, you get the ability to make more of a range of different areas in the home.
Hallways can be flowing energy without the obstacle and interruption of a door frame or bulkhead. The ceiling line becomes a continuous throughline with the flow extending along the walls because the door appears to slide out of nowhere.
The stylishness can be applied to ensuites and Walk In Robes. This allows you to maximise the area around doorways in a master bedroom. Gone are the clutter and obstruction that an ordinary door brings and there is the added space for other furnishings and decorative effects.
Easy access to everything in your wardrobe is achieved by simply choosing the clear and clever design of sliding doors.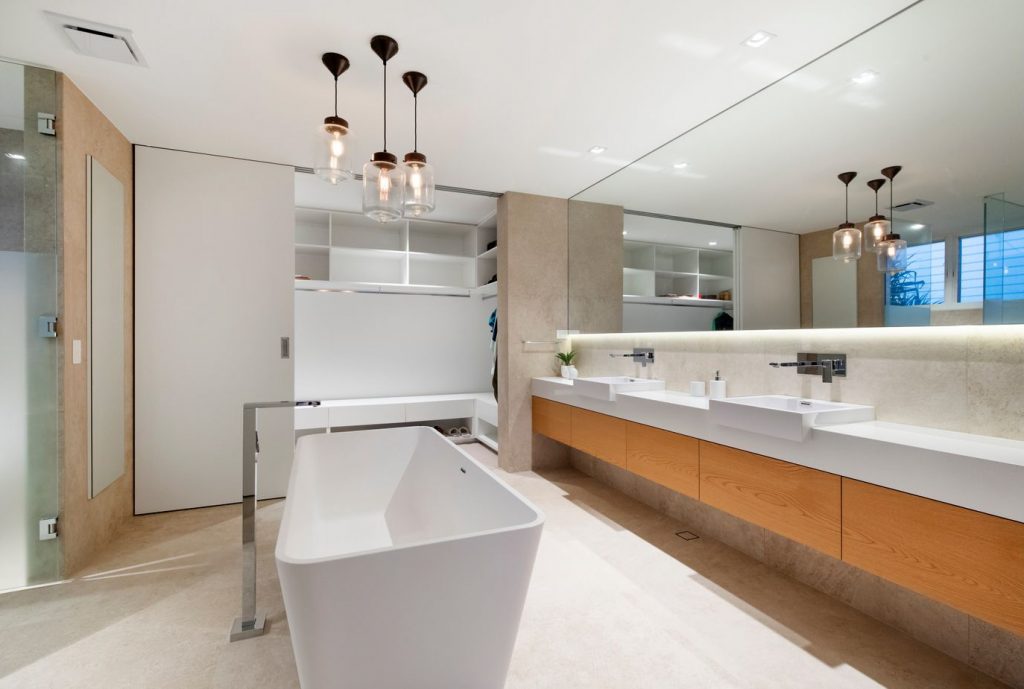 The quiet achiever in your home
There are many spaces in the home that can benefit from the inclusion of soft close cavity sliders. These wonders are increasingly popular with their ability to avoid slamming or noisily hitting against the jamb as they come to a close.
The family naturally brings a mix of noises and activities. Having the lounge and living areas fitted with sliding doors from floor to ceiling allows you to add extra versatility to these rooms. A busy living room can be easily closed off and the noise from the kids or television can be reduced with a quality sliding door. A larger lounge space can be created when you are entertaining guests to maximise the warm and welcoming atmosphere and energy flow.
There is no need for the constant opening and closing of traditional doors or the obstruction they unintentionally make to the space and the feel of the home.
Working from a home that works
Many homeowners have seen the benefits of having flexible work options. The ability to work from home, manage household tasks, and play with the kids has meant that working remotely is here to stay.
People are now investing in the idea of comfortable and specialised areas with a home office that can be closed off for privacy or opened up for extra living space. This is where floor-to-ceiling doors can divide the space with a simple sliding effect.
The space-saving efficiency of a sliding door goes hand in hand with an attractive appearance.
Floor-to-ceiling doors give elegance and charm to a home with clean lines and workings that are hidden from view. Closing the interior of rooms and those to outdoor areas has never been easier or more stylish. The benefits go well beyond simply widening the space.
The stunning effect only adds to the variety and value you can bring to your home.
Contact Triline for custom sliding doors
Triline is the leading name in quality sliding doors for good reason. You get the benefits of years of experience in research, design, and aesthetics for cavity sliding doors. We are dedicated to providing the most innovative approach to well-designed living.
By using the latest in cutting-edge construction technology and high-grade materials, Triline continues to offer the ultimate in excellence.
For a door, you will adore, call us today or send us an email.